Is a student loan secured or unsecured?
Why are student loans considered unsecured?
As a student in the US pursuing your higher education, you may be wondering about the types of loans available for funding your higher education. In terms of applying for a loan for your post-secondary degree, it's important to look at all the factors, including the terms, the interest rate, and of course, your eligibility to secure a loan given your current financial situation.
In most cases, student loans are considered unsecured, or similar to a personal loan, which means that there is no collateral behind it.
This is important to note because in most cases, the interest rate for an unsecured loan is generally higher than a secured loan, because the institution lending you the money is taking on a bit more risk in that you may or may not be able to pay off the loan after you have completed your education, and that you do not have any valued assets they can seize if you default on payment.
We'd like to assure you not to worry. There are financial organizations in the US that do the work for you if you are looking for the best rates on student loans in America, such as Debt Helper USA. We specialize in working with people who have big dreams around their higher education but are worried how they might pay for it. Our team of financial counselors works closely with students across the country who are working to better themselves through school, by finding them the best student loans, at the best rates possible.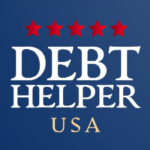 Transforming Debt Into Opportunity.
✔️ Reduce your monthly payment
✔️ Settle Your Debt For Less Than You Owe
✔️ Lower your interest rate %
Secured loans for Student Education
If you are still unsure about applying for an unsecured student loan, it is important to understand that finding a secured loan for student education is a bit more difficult, and it also comes with risks. A secured loan is tied to an asset – such as bank accounts or investments, your home, your car or high value collectables, such as antiques. In most cases, as a student, you will not have these kinds of assets.
When you take out a secured loan, which requires extensive paperwork, if you default on your payments then the lending company can come and seize your assets. For a student at an institute of higher learning, you would be in a very difficult situation if – for whatever reason — you had your home seized for not making your student loan payments. Also, if you have a very low credit score, it is unlikely you would qualify for a secured loan.
Unsecured loans for student education
Because of the aspect of risk that comes with a secured loan for paying for your education (and the fact that most students don't have the assets to back up a secured loan), the financial helpers at Debt Helper USA suggest that it is best to apply for an unsecured loan for your higher education. Not sure where to go to get the best rates and terms?
Our team can help you! We help thousands of Americans who are bettering their lives by pursuing a higher education by helping them find the right student loan.
Which is better: Secured or Unsecured loans?
There are pros and cons to both secured and unsecured loans. With secured loans, the borrower (you) has to put up an asset (real estate, bank accounts, vehicles, life insurance policies, high value collectables) to receive the loan. The lender puts a lien on your asset and once the loan has been paid off in full, then the lien is removed.
Many people consider secured loans to be a riskier choice, because if you don't pay off the secured loan, then your assets can be seized and sold off. Secured loans also charge interest, albeit at a lower rate than unsecured loans — a fact many people don't know.
Unsecured loans- Are they the right choice?
With unsecured loans, you are likely looking at a higher interest rate overall. As well, if you have a very low credit score, it may be that you need to look at lenders who are in the business of lending to people who may get turned down by regular banks and institutions.
However, at the end of the day, an unsecured loan may be a better choice as a student looking for funding for your higher education, because you cannot have any of your assets taken away if you miss a payment or two. It also may be easier to get approved for an unsecured loan, which may be a better choice if you require your student funding soon.
In all cases of applying for a student loan, it is best to reach out to a team of financial experts – and even more so if you have had difficulty getting approved by other banks, or have been turned down for loans  in the past.  The team at Debt Helper USA can help determine if it's best you pursue a secured or unsecured loan and we can walk you through the pros and cons of both.
Making the decision to pursue a higher education is a great goal, so don't let the issues around finding a loan for financing slow you down. The Debt Helper USA team is here to help you realize your dreams!
If you are new to Debt Helper USA and interested in reducing credit card interest rates or payments, submit the following form to receive a call from one of our caring financial advisors within 48 hours.